Public Gardens Map
Find this article at:
go.ncsu.edu/readext?264692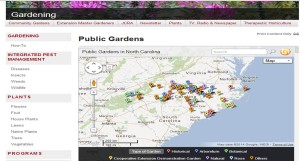 Check out the Map of Public Gardens on the NCSU Gardening Portal
*  Click on a marker for detailed information about that garden.
* Use the Zoom tool on the left to focus in on a particular area or to view a larger area.
* Click and drag to reposition the view.
*  Click a type of garden in the key to view only gardens of that type.
*  Scroll down below the full size map for an alphabetical listing of gardens.